Women's Clothing Sizing
How do I find the size I need?
It is best to have someone take the measurements for you, measuring over undergarments only.
Chest (Bust)
Measure under your arms around the fullest part of your chest/bust, keeping the tape parallel to the floor.
Waist
Measure around your natural waistline. Keep the tape comfortably loose.
Hip (Seat)
Stand with your heels together and measure around the fullest part of your hips. (Approximately 8" from your waist if you're average height, and 7" if you're petite.)
Inseam
Measure from the crotch to the cuff on the inside of the leg. The number of inches, to the nearest ½", is the inseam length.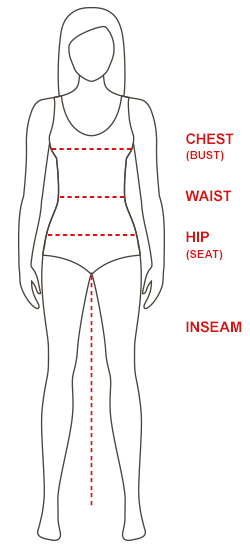 To determine your clothing size, compare your measurements (in inches) to these size charts.
Bust
Waist
Hip
S
4
33-331⁄2
25-26
351⁄2-36
6
34-341⁄2
261⁄2-271⁄2
361⁄2-37
M
8
35-351⁄2
28-29
371⁄2-38
10
36-361⁄2
291⁄2-301⁄2
381⁄2-40
L
12
37-38
31-32
401⁄2-42
14
381⁄2-391⁄2
321⁄2-331⁄2
41-42
XL
16
40-41
34-35
421⁄2-431⁄2
18
411⁄2-43
351⁄2-361⁄2
44-451⁄2
XXL
20
431⁄2-441⁄2
37-38
46-47
22
45-46
381⁄2-391⁄2
471⁄2-49
Women's Plus Size Clothing
Bust
Waist
Hip
14W
38-391⁄2
32-331⁄2
42-431⁄2
1X
16W
40-411⁄2
341⁄2-36
44-451⁄2
18W
42-431⁄2
361⁄2-38
46-471⁄2
2X
20W
44-46
381⁄2-40
48-491⁄2
22W
461⁄2-481⁄2
401⁄2-42
50-52
3X
24W
49-51
421⁄2-44
521⁄2-541⁄2
26W
511⁄2-531⁄2
441⁄2-46
55-56
4X
28W
54-56
461⁄2-48
561⁄2-581⁄2
30W
561⁄2-581⁄2
481⁄2-50
59-61
5X
32W
59-61
501⁄2-52
611⁄2-631⁄2
34W
611⁄2-621⁄2
521⁄2-531⁄2
64-651⁄2